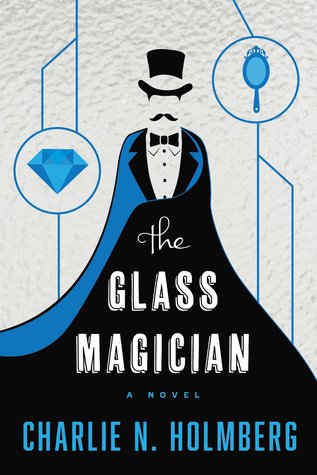 **I received this book from NetGalley in exchange for my honest review**
3/5 Stars
Synopsis per Goodreads:
Three months after returning Magician Emery Thane's heart to his body, Ceony Twill is well on her way to becoming a Folder. Unfortunately, not all of Ceony's thoughts have been focused on paper magic. Though she was promised romance by a fortuity box, Ceony still hasn't broken the teacher-student barrier with Emery, despite their growing closeness.

When a magician with a penchant for revenge believes that Ceony possesses a secret, he vows to discover it…even if it tears apart the very fabric of their magical world. After a series of attacks target Ceony and catch those she holds most dear in the crossfire, Ceony knows she must find the true limits of her powers…and keep her knowledge from falling into wayward hands.

The delightful sequel to Charlie N. Holmberg's The Paper Magician, The Glass Magician will charm readers young and old alike.
I started this one immediately after the first one, I liked the first one, I was disappointed in a lot of it, like the character building and world building and was hoping this one would answer a lot of questions I had.
It didn't.
The author has such potential in this book for greatness, but it falls flat. The plot, and the premise are both really good, but sometimes a reader reads too much into a book, and wants to know EVERYTHING. I want to know how magicians fit into the world. I want to know why they called a buggy "automobile" but then kept on calling it that, is it a buggy? or a car? little details in my head I couldn't figure out what it was, or what it looked like, to clearly picture it.
This one didn't have the whimsicalness that book number 1 had, but I think that reflects that it is getting darker. The character didn't show any growth and she found it so easy to just jump into danger and put her friends into danger without caring. That drives me nuts.
The ending of the book made me excited, and hopefully for book number 3, I will read it, hopefully love it, and hopefully I'll see the growth im hoping for, cause right now I can't see Thane and her together, I can't see her anything but dead, for rushing into things.