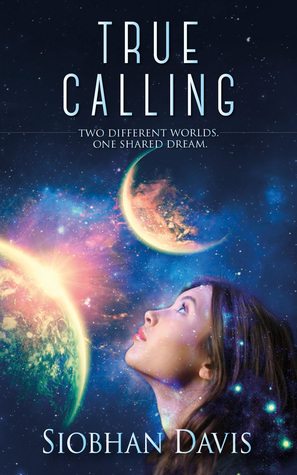 I recently had the privilege and pleasure of connecting with
Siobhan Davis
, author of newly released YA/Sci-fi Dystopian novel True Calling. I was granted this book via NetGalley, and fell in love with it, see my review
HERE
. She gave me permission to be super nosy and ask her all sorts of questions, and I adored all of her answers. This awesome lady not only let me pick her brain, but she is giving me TWO ebook copies of her books to give away to my readers! Please sit back and enjoy the Q&A I had with her, and be sure to enter below for a free copy of your ebook, also go to
www.siobhandavis.com
and check out the first three chapters of True Calling.
Thank you SOOO much Siobhan for letting me pick your brain, I know there were a lot of questions!
Your idea for True Calling grew out of someone else's dream, have you had any dreams like that?
It's true that Stephenie Meyer's 'meadow dream' caused me to think long and hard about dreams, and their meanings, and essentially the idea for True Calling derived from that inner exploration. I've had a couple of vivid dreams in the past, but none that inspired me to write a book! Mostly my dreams are so random and illogical that I usually forget them the instant I wake up.
Tell us about the cover and how it came about?
I knew that I wanted to depict the two worlds and the main character on the cover, but I was unsure exactly of how to structure it. I engaged a brilliant designer, gave her an overview of the book and my cover ideas, and she came up with a few suggestions. The initial idea we were working on just wasn't coming together so my designer came back with an alternative suggestion which ended up being the cover I choose.
Who designed your book cover? Any hints for Book 2's cover
?
A talented designer called Kremena Stoqnova designed the True Calling cover. The cover for Book 2 is yet to be created, however I will be keeping a similar tone and feel with the second and third books to ensure there is some consistency which marks it as a series.
And now for the books … any hints, teasers for Book 2/3?
I really can't give too much away as I don't want to spoil the enjoyment for the reader. The setting is very different in Book 2 and we get to explore a contrasting world as well as meet some new characters. We also learn more about some characters who played a minor part in Book 1, for example, Isla, Ben and Melandra. The themes are getting darker and there are many plot twists and turns, some of which are totally unexpected. Book 2 answers some of the unresolved questions left open at the end of Book 1, but in some cases only partly, and the full picture will only become totally clear in Book 3. If you thought Book 1 ended on a cliff-hangar wait till you read the ending of Book 2!
About the love triangle - do you feel there isn't really a triangle? Are you Team Zane or Team Cal?
While it appears as if there's a love triangle in this series, it will become apparent in Book 2 that there actually isn't. Athough it's not as straightforward as saying Ariana will simply choose one boy and that's it. It's a lot more complex than that! When I started writing this series I thought at the outset that I would be Team Zane but the more I got to know Cal the more I rooted for him, so it's now virtually impossible to choose a side.
How did you pick the names of your characters?
I have a huge list of names that I like, that I add to all the time, and I'm constantly on the lookout for more. For example, one morning I was chatting to one of the other soccer moms at the football field and she told me her daughter's name was Isla, and I loved it immediately and felt it was perfect for one of my characters. In choosing names for True Calling I wanted to choose names that weren't too futuristic as the setting isn't that far into the future so I wanted to try and keep the names as relatable as possible, without them being too traditional, in most cases.
What made you decide to become a writer, is it something that you've always wanted, have you written anything prior to True Calling, novellas, short stories etc?
I loved reading from a very early age and English was one of my favourite subjects in school. My day job involves a huge amount of writing though it's mainly corporate communications, policy documents and management reports/proposals. I'd felt the desire to write fiction for years (I was always dreaming up stories in my head and dissecting books/movies) and once I started fiction-writing five/six years ago I couldn't, and haven't, stopped. I'm a member of a writing group and I try to write something every day or every other day. It's not really something that I choose to do at this stage –it's something I feel compelled to do and it's as vital to me as breathing! I have lots of things written, but my first published work is True Calling. I also have a True Calling related short story now available on Wattpad.
What are your ambitions for your writing career?
I would love to be able to write full-time for a living - that really would be a dream come true.
In some reviews that I have read, it's said that True Calling is comparable to other books of a YA/SciFi/Dystopian genre. How does that make you feel?
Flattered! All the major successful YA books of the last decade have been compared to other books so I'm in good company! To have True Calling compared to such hugely successful books like The Hunger Games, Delirium, Matched, The 100 and The Selection is fantastic. I haven't read the majority of those books so any similarities are pure coincidence. I know there are enough unique elements to make True Calling an original story in its own right, and many reviewers have said this too. But if fans of these other books are drawn to my book because of some similarities then I'm not going to complain about that!
What draws you to this genre?
I love the action-adventure and futuristic worlds of the YA dystopian/sci-fi though it only works for me if there is a romance theme as well. I am a total sucker for romance and it's often this thread that has me racing through a book to find out what's next.
What writers inspire you?
I love Emily Bronte's 'Wuthering Heights' and it's one of my all-time favorites. I'm a massive fan of Suzanne Collin's Hunger Games trilogy and I love her writing. I also read a lot of crime novels and I love Tess Gerritsen's books without exception.
What made you decide to sit down and actually start something?
When the idea for True Calling came to me I actually couldn't stop thinking about it. I would wake in the middle of the night with a new idea and scribble it down in my notepad, and this would often happen during the day when other random scenes would pop into my head. I found that the story would just not go away and I felt obligated to write it down. Once I started writing it I didn't stop until it was completed.
Do you have a special time to write or how is your day structured?
As I work full-time and have a busy family life finding the time to write can be challenging. Usually I write for an hour or two at night and to me that's when I'm at my best: when there are no other distractions and I can just sit there and write to my heart's content.
Do you write every day, 5 days a week or as and when?
I try to write something every day, but often it's every other day and sometimes a week can go by without any time for writing. But I try to exercise the writing muscle as often as my busy schedule permits.
Do you aim for a set amount of words/pages per day?
No, because I'm not in a position to write full-time yet so I have to grab the opportunity to write as it presents itself. If I was able to write full-time I most definitely would set myself defined goals to work towards every day, as it's how I manage my corporate career and it's engrained in me at this stage!
Do you listen to anything while writing? Have a play list?
I don't listen as I write, I'd find that way too distracting. However, I always have music on in my car and I listen intently to song lyrics and often I'll write down song lines that I like, for inspiration. My husband says I have the musical taste of a sixteen-year-old so I try to tap into that for my YA writing! At the moment I'm listening to Katy Perry, Bruno Mars, Kelly Clarkson, the Twilight soundtracks and Paramore.
I know you have a husband and two sons, how are they handling your writing career?
My husband is hugely supportive and encouraging, and he puts up with my neurosis so I can't complain! My sons are just taking it in their stride. I had to practically beg my thirteen-year-old son to send out a Facebook message to his friends about True Calling. I don't think it's cool to have a mom who is writing books for teenagers!
What is the hardest thing about writing?
For me it's not being able to indulge my passion to write full-time.
What is the easiest thing about writing?
You are not reliant on anyone else and it's something that can totally be done alone. I find that very empowering.
Do you read much and if so who are your favourite authors?
I read every day, and I don't think you can be an author unless you are constantly reading yourself. My favourite authors are Emily Bronte, Suzanne Collins, Tess Gerritsen, Patricia Cornwell and Kathy Reichs.
What books are you reading at present?
I have just started re-reading Laini Taylor's The Daughter of Smoke and Bone trilogy. I read it for the first time last week but raced through Book 2 and 3, dying to know what would happen to Akiva and Karou. So now I'm reading it again, slower this time, to totally enjoy Laini's incredible writing style. I also have James Patterson's 2nd Honeymoon by my bed and I'm eagerly awaiting the new Tess Gerritsen novel.
What is the one thing you could tell your fans, future and present, a teensy bit of advice, a favourite quote, anything? Something to pass on, words of inspiration?
I learnt the poem, He wishes for the cloths of Heaven by William Butler Yeats, when I was in school and the words never left me. Recently I haven't been able to get this poem out of my head:
Had I the heavens' embroidered cloths,
Enwrought with golden and silver light,
The blue and the dim and the dark cloths
Of night and light and the half light,
I would spread the cloths under your feet:
But I, being poor, have only my dreams;
I have spread my dreams under your feet;
Tread softly because you tread on my dreams.
I think it's especially appealing to me now because the dream theme is such a big part of True Calling, and my own dreams and aspirations for the future are tied up in it.
Don't forget to go to
www.siobhandavis.com
, the first 3 chapters of True Calling are available for your reading pleasure
True Calling is available to purchase from
Amazon
and all major on-line retailers.
contact author at
Email:siobhan@siobhandavis.com
Twitter: @siobhandavis
a Rafflecopter giveaway