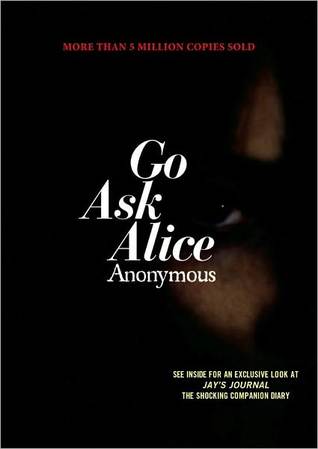 Synopsis per Goodreads:
January 24th

After you've had it, there isn't even life without drugs....
It started when she was served a soft drink laced with LSD in a dangerous party game. Within months, she was hooked, trapped in a downward spiral that took her from her comfortable home and loving family to the mean streets of an unforgiving city. It was a journey that would rob her of her innocence, her youth -- and ultimately her life.
Read her diary.

Enter her world.

You will never forget her.
For thirty-five years, the acclaimed, bestselling first-person account of a teenage girl's harrowing decent into the nightmarish world of drugs has left an indelible mark on generations of teen readers. As powerful -- and as timely -- today as ever, Go Ask Alice remains the definitive book on the horrors of addiction.
Why is this book banned?
According to wickipedia:Because
Go Ask Alice
includes profanity as well as relatively explicit references to runaways, drugs, sex, and rape, parents and activists have sought to remove it from school libraries. Bans started in the 1970s:
Kalamazoo, Michigan
in 1974,
Saginaw, Michigan
in 1975, and
Eagle Pass, Texas
and
Trenton, New Jersey
in 1976 through removal from local libraries. Other libraries in
New York
(1975),
Ogden, Utah
(1979), and
Florida
(1982) required parental permission for a student to check out the book. Additional bans occurred in 1983 in
Minnesota
and
Colorado
, 1984 in
Mississippi
, and 1986 in
Georgia
and
Michigan
. Also, in 1993 in
New Jersey
and
West Virginia
, 1994 in
Massachusetts
, 1998 in
Rhode Island
, 2003 in
Maine
, and in Feb 2007 Berkeley County School District in
South Carolina
. The
American Library Association
listed
Go Ask Alice
as number 25 on its list of the 100 most frequently challenged books of the 1990s.
[8]
The book was number 8 on the most challenged list in 2001 and up to number 6 in 2003.
Why I disagree with the banning
I first read this book as a teen, I don't even remember what age or grade I was in, I think elementary school, I DO remember the book, vividly. I think I turned out fine. When people ask me how I got through my teen years without trying drugs, or anything like that, why I wasn't rebellious, even in my rebellious stage, I didn't do that stuff, one of the top reasons I can list, is Go Ask Alice. This book was disturbing in the fact that it shows a perfectly normal teen in a downward spiral in drugs and sex and wild times. I read it and was absolutely appalled. I didn't have any teachers or parents or any grown up guiding me with this book either, I can't remember if I read it because of school, or of my own free will, those memories are vague, but the memories of the things that happened in the actul book though? I remember those. The things she went through while high, to get high, and after her high, was just, absolutely unappealing to me. To degrade herself to the point of a blowjob for a drug, was just..incredibly not cool in my eyes. I vowed after reading that book never to touch the stuff. I never did.
When I read this book as a younger girl, I really and honestly thought it was a real book, a real diary from a real person, which made the impact even more shocking. Now that I'm older, it wasn't as impactful as I thought it would be, mostly because I know now that the book itself is controversial as far as if it was real or not, that the diary was taken from various diaries and could possibly be even made up. Some of it seemed too adult, statistics and stuff like that, that most teens wouldn't know, especially if they are out of their minds with drugs.
So many people could learn a lesson or two from this book. While yeah it was a harsh read, brutal, and the ending of it was like, wow. You can still use it to teach some points about the effects of drug use. It made an impact on me, and I thought of this book a lot throughout my life. Some parents don't want their kids to read about sex and drugs, and that's fine, but don't ruin it for people who's lives it can impact.





Up Next?
Roll of Thunder, Hear My Cry by Mildred D. Taylor