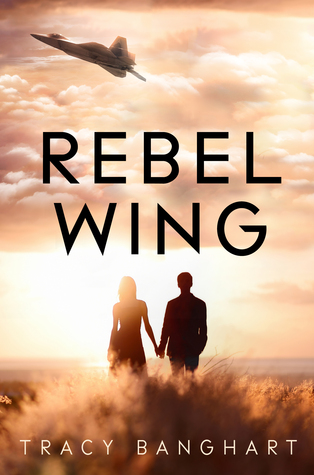 **I received this from Netgalley in exchange for my honest review**
4/5 Stars
Synopsis per Goodreads:
The Dominion of Atalanta is at war. But for eighteen-year-old Aris, the fighting is nothing more than a distant nightmare, something she watches on news vids from the safety of her idyllic seaside town. Then her boyfriend, Calix, is drafted into the Military, and the nightmare becomes a dangerous reality.

Left behind, Aris has nothing to fill her days. Even flying her wingjet—the thing she loves most, aside from Calix—feels meaningless without him by her side. So when she's recruited to be a pilot for an elite search-and-rescue unit, she leaps at the chance, hoping she'll be stationed near Calix. But there's a catch: She must disguise herself as a man named Aristos. There are no women in the Atalantan Military, and there never will be.

Aris gives up everything to find Calix: her home. Her family. Even her identity. But as the war rages on, Aris discovers she's fighting for much more than her relationship. With each injured person she rescues and each violent battle she survives, Aris is becoming a true soldier—and the best flyer in the Atalantan Military. She's determined to save her Dominion . . . or die trying.

My thoughts on this book:
Only one bad thing about this book and I think it was just my copy, the copy I got from netgalley had changing fonts all the time, it would go from normal font to some weird tiny little font that I had to keep making the lettering bigger then smaller then back to bigger over and over, it got annoying, but it was probably just the copy that I got from Netgalley.
I absolutely loved this book. I loved it so much that I am mad that I read it. I dont even see any mention on goodreads or anywhere that a book number 2 is coming out like tomorrow for me to read. Book 2 according to the authors website comes out in December. That is not tomorrow. :(
I loved the characters, I loved the main character, Aris, she's one of those weak females that learns her worth. She's disabled in the form of a bad leg, but decides to follow her man to the military by pretending to be a man, going through training, and finding herself. She grows stronger, and kicks butt and I loved it.
The world and atmosphere that the author created was awesome and very imaginative. The plot was good, and made sense. It flowed, it was a longer book but didn't feel long, in fact it felt too short to me, because I wanted to keep right on reading.
Loved this book, recommend it to anyone who likes the dystopian YA type book. Anxiously looking forward to the next one.