5/5 Stars
I'm not going to write a review, because some books just don't really need the reviews. There's not much I can say about this book, except that it's the final book of the Hallows series that I have been reading for longer than I can remember. 13 years? Less than that probably, but almost from the start. So this blog post is a tribute of sorts, to the series that I absolutely loved.
In 2005 or 2006 I got to meet Kim Harrison, at a romance author convention in Daytona Beach. She was one of three authors I went to meet. By then I was following her books religiously, buying them the day they came out.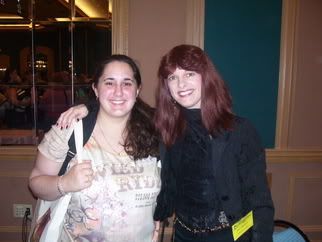 See my flushed face? That was me fangirling with a huge case of the idiots coming out of my mouth. I told her she saved my life! Which she did, she kept me from dying of boredom when I was pregnant.
She's coming to Orlando this coming weekend, I think it's fitting, because I'm going to go stalk her again. I'm going to get her to sign the final book of the series. I believe I have the very first one signed in storage.
This book ended beautifully. And I loved the final chapter, because I can almost picture the rest of their lives.
I'm going to miss Rachel Morgan, and Trent, and Ivy, and Al, and Jenks. I'm going to miss the ley lines, and the constant need to save the world, the battles and the loveable Bis. I want me my own Bis. The Hallows, I will miss you.